Charlie Michelle is a beautiful young gourmet kosher chef whose hubby is currently serving in the U.S army.
Thank you Charlie for sending in this delicious father's day breakfast!  Marlene
by Charlie Michelle
As Father's Day rolls around, Hostesses, let's all take a moment to acknowledge that our culture is one that, on paper, seems patriarichal, but in practice–we all know who tends to rule the roost. We get the flowers, the perfume, the jewelry. We win the arguments, run the household, raise the children, and let our husbands think that vacation to Mexico was their idea. The guys may think it's their world, but we know the truth.
So this Father's Day, why not spoil Dad a little? After all, as the father of your children, your dear husband and partner, and your friend and confidant, he deserves a bit of pampering.
But shopping for Dad isn't always easy. There are the typical gifts–a nifty tie, a child's drawing or clay handprint, a pair of cufflinks or the newest techno gadget. But what do you do when you want to step outside the box a little and treat him to something special and homemade?
Breakfast in bed seems to be the sole property of Mother's Day, and it doesn't seem fair that dads miss out on this luxurious treat. But to take it a step further (and avoid crumbs in the bed!), fluff up the pillows and serve him breakfast where many guys spend most of their leisure time–on the couch. Flip on his favorite movie or game, bring his slippers, and surprise him with a fabulous brunch fit for a king.
A classic brunch takes on a macho twist with a few simple changes. Add spicy bean dip and sour cream to your pepper and chevre omelet. Serve him a strong mug of coffee instead of a dainty cup of tea. Instead of frilly flavored scones, try a hearty maple cornbread, baked up in a manly cast iron skillet.

Photo by Kara Pritchard of NoMoreNegatives
If you're buying your gentleman a gift this Father's Day, don't fuss with fancy wrappings or ribbons. Chances are good that he probably won't even notice them. Instead, you can buy a simple brown cardboard craft box at any hobby store for less than the price of a gift bag. Tuck his gift inside in a puff of tissue paper, and tie it closed with a string of raffia or twine. It will give your gift a minimalist, elegant look, sure to appeal to a man's "No muss, no fuss" personality. Of course, if your Mister likes a little glitz, by all means, glam it up by adding a sparkly ribbon or wrapping the box in brightly colored comics. Another fun idea is to wrap a gift in white paper and have your children draw doodles on it with bright markers or crayons. You can later save the doodles in a scrapbook, and make it an annual tradition your children and husband will enjoy for years to come.
On to the brunch!
Nothing says macho like the sturdy, hearty goodness of cornbread. Sweeten it up with a spoonful of a surprising ingredient (see recipe below), and serve warm, with a drizzle of pure maple syrup. Make it heartier with the addition of soy crumbles, green onion, shredded kosher cheese, or whole kernel corn.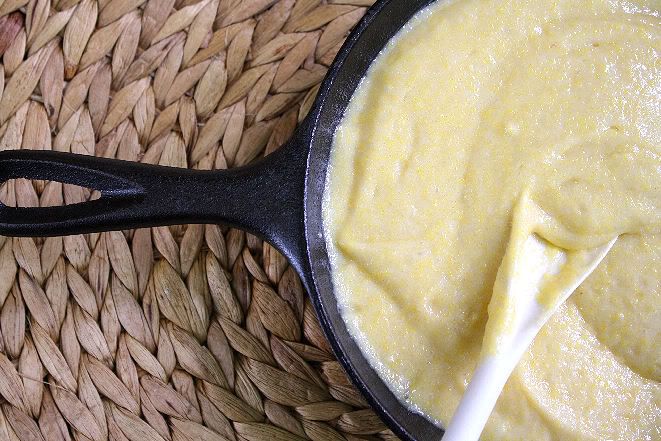 To add a splash of color to your man's kingly breakfast, nothing wakes up the sense like a tart, tangy fruit salad. Plump green grapes, sweet red grapes, juicy strawberries, tart blackberries [replace with orange wedges if you prefer, if blackberries present a kosher issue] all mingle together in a sweet taste of summer.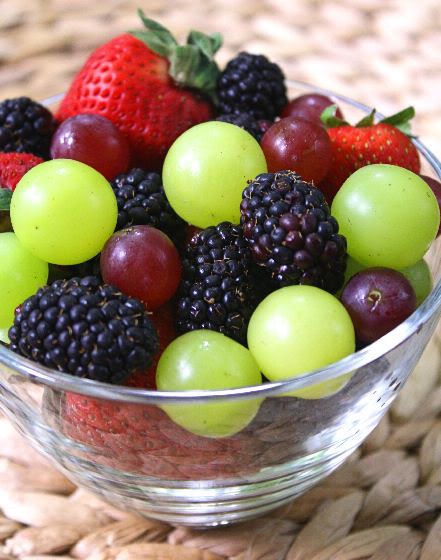 The omelet is the star of the show today, ladies. Of course, the filling is completely up to you and fully customizable to your darling's tastes and preferences. Today, I made mine with grilled red and green bell peppers, creamy goat cheese, and kalamata olives. It is topped in spicy pinto bean spread, low fat sour cream, a pinch of dry basil, and garnished with fresh bell pepper.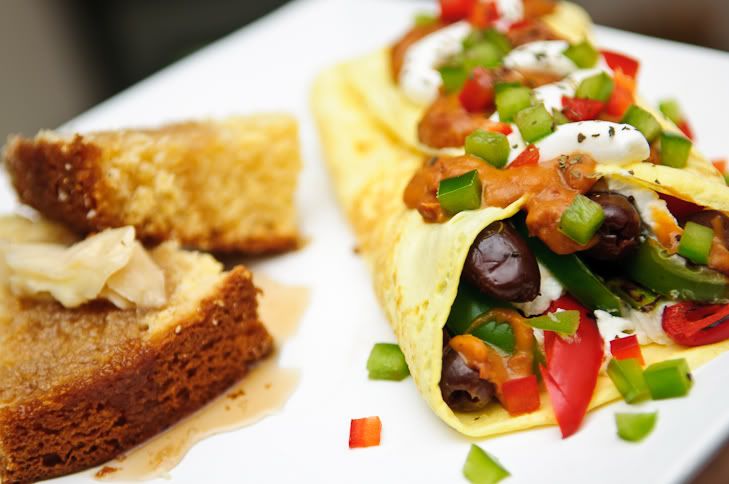 Photo by Kara Pritchard of NoMoreNegatives
With all this goodness, your darling husband is going to be swept away. So fluff him a pillow, bring over an ottoman, and serve breakfast up fresh and hot. Remind him of all the reasons he's your hero, and I guarantee, he'll feel like the king of your castle. It's his day. Long live the king.

Photos by Kara Pritchard of NoMoreNegatives
Sweet Maple Cornbread:
1 1/2 cups flour
2/3 cup brown sugar
1/2 cup cornmeal
1 tablespoon baking powder
1/2 teaspoon salt
1 1/4 cups milk
2 large eggs, lightly beaten
1/3 cup oil
3 tablespoons butter or Earth Balance spread
1 1/2 tablespoons vanilla-caramel flavored powdered coffee creamer
(this is the secret ingredient that gives it that extra-special sweetness. Nestle CoffeeMate brand is kosher dairy)
Mix all ingredients and spread into greased cast iron skillet. Bake at 400 degrees until knife inserted in center comes out clean, about 30 minutes. Serve warm.
Garden Omelet
2/3 cup Eggbeaters or 3 eggs (the Eggbeaters will make it easier to bend as a crepe- beaten eggs will crack as it bends around the filling)
1 cup thin-sliced bell peppers
1/4 cup goat cheese
1/4 cup kalamata olives, sliced lengthwise
Spicy hummus or bean dip
Low fat sour cream or greek yogurt
Pinch of dry herbs
Diced bell pepper to garnish
Pour Eggbeaters into wide skillet and cook over medium-high heat until egg is cooked through. Invert onto a plate.
Arrange cheese, peppers, and olives in the center of the omelet, and fold the egg over onto itself to close. Use a smear of bean dip to seal it shut.
Fill a baggie with bean dip, and another with sour cream. Cut off a corner of the baggie and drizzle your toppings onto the omelet. Garnish with remaining diced bell pepper.
Happy Father's Day to you and yours!
Thank you to Kara Pritchard for her generous donation of time and talent.
Check out her photo galleries at NoMoreNegatives–she's amazing.