Don't miss a single recipe or gorgeous table setting idea! 
If you're in need of new dinner menu idea, look no further than a classic quesadilla! Perfect for entertaining or a weeknight kid- friendly dinnner!
I used corn tortillas, replaced the typical ground beef with fat free refried beans, and featured creamy avocados instead of cheese and sour cream, so this party pleaser is healthy, light (less than 80 calories per quarter!), kosher parve, vegan, and gluten free. Not to mention, the triangle shape makes for easy snacking, as well as a festive touch for any  get together.
What you'll need for a dozen quesadilla wedges:
* If you're vegan, be sure to check your refried beans. Some have added sugar.
– 6  organic corn tortillas
– 3/4 cups fat free refried beans
– 1 tablespoon hot sauce or ground chiles
– 1/2 fresh avocado, diced
– 1/2 large tomato, seeds removed, diced
– 1/4 white onion, diced finely
– 3 tablespoons fresh lime juice
In a small bowl, combine beans and hot sauce or chiles.
On half the corn tortillas, spread 1/4 cup refried beans on each. Place a second tortilla on top of each and press down slightly. You can always use more if 1/4 cup is too scant for your taste. There's no such thing as too much deliciousness.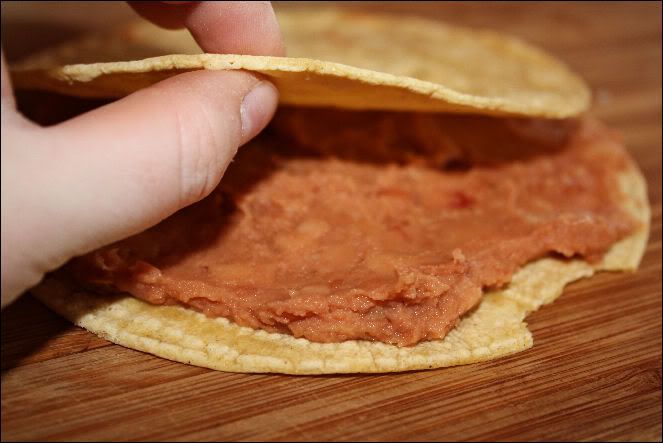 You'll have three whole quesadillas now. In a large skillet, panfry each quesadilla over medium-high heat. You don't need to use oil, but a bit of nonstick spray will help to make the edges nice and crisp.
When the quesadillas are golden and crispy, cut each into quarters and set aside. You'll have 12 wedges.
In a medium bowl, toss together your tomato, avocado, onion, and lime juice. Spoon over the top of your warm quesadilla wedges and serve immediately!
You can always add shredded purple cabbage for more color, or a bit of greek yogurt if you don't mind dairy, or plain soy yogurt to keep them parve.
Enjoy, and happy eating!