I had my first delectable fish taco experience at  the kosher Fish Grill in LA., and ever since, then I have been wanting to  add  fish tacos to my dinner menu. There are many fish taco recipes out there, and I have modified this one by adding whole wheat Panko crumbs and the Ezekiel Tortilla wraps. Fun to serve at dinnertime allowing the family to slop on all of their ingredients, or wrap them up prettily and slide on a tooth pick for dinner guests.
Either way- its a sure fire winner recipe! Enjoy!
Whole Wheat Panko-Encrusted Fish Tacos with Ezekial Tortillas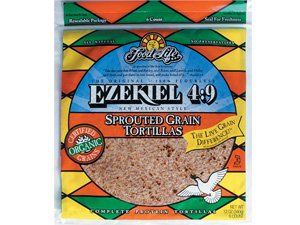 1 cup reduced-fat mayonnaise or Hellman's olive oil mayonnaise
3 tbsp fresh lime juice
1 jalapeno, seeded and diced (1 tsp)
2 tsp Dijon mustard
4 eggs beaten
2-3 cups panko breadcrumbs
2 lb white fish fillets, cut into thin strips
1/4 cup vegetable oil
1 package flour tortillas Ezekial Brand
1 cup shredded cabbage
1 avocado chopped
Preparation:
1. For the sauce, combine mayonnaise, lime juice,jalapeno and Dijon; refrigerate until serving.
2. Beat egg with a fork in a  shallow dish. Pour whole wheat panko on another plate and season with salt, pepper and garlic salt. Dredge each fish strip in egg mixture then in panko, pressing crumbs to adhere.
3. Heat oil to medium heat in a large sauté pan 4 minutes on each side, turning once until until golden brown or fish flakes with a fork.
4. Warm tortillas in oven for one minute. Place sauce and then sautéed fish atop tortilla. Top with shredded cabbage (coleslaw mix in a bag), avocado and salsa, if desired. Watch the video above to see how the pros wrap their tortillas!