by Charlie Michelle
For a dairy lover like me, Shavuot is one of my favorite holidays to spend in the kitchen. There are a millions different ways to include cheese in your Shavuot meal, but in the interest of our waistlines, I thought a bountiful salad would be the perfect way to celebrate while also tempering the indulgence with a hearty dose of healthiness.
A colorful mix of red and green Tango lettuce makes the bed of this Mediterranean inspired salad.
Nestled among the greens is a lovely blend of vitamin-packed strawberries, bright crisp carrot slivers, spicy red onion, cool julienned cucumber, and heart-healthy kalamata olives, stuffed with creamy, low fat cheese.
The beauty of salads is that they are so very versatile. You can add or subtract ingredients to your taste, adjust quantities, and spruce your salad up with any number of dressings. I used a very basic greek vinaigrette to top mine– olive oil, vinegar, basil and herbs, and a handful of crushed kosher feta.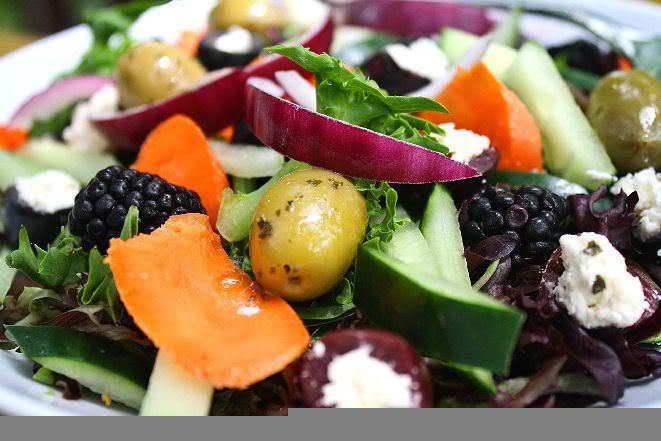 Shavuot Salad (for 2)
– Four heaping cups of your favorite greens
– A dozen jumbo olives, halved and pitted
– 1 large carrot, shaved
– 1/2 medium cucumber, seeds removed and julienned
– 1 cup medium fresh strawberries, tops removed, quartered
– 1/2 cup kosher goat cheese or a kosher creamy feta cheese
– 1/4 small red onion, slivered
Dressing:
– 1/4 cup high quality olive oil
– 2 tablespoons white wine vinegar
– 2 teaspoons dry basil
– 2 teaspoon dry thyme
– 1 teaspoon cracked black pepper
– pinch kosher salt
– 3 tablespoons kosher feta or goat cheese, crushed under the blade of a knife
To stuff the olives, simply pinch a piece of creamy feta or goat cheese and roll it into a ball between your fingers. Then pack your little cheeseball into the cut half of each olive.
Making a salad is easy–just toss it all together, or arrange it artfully for presentation.
The dressing is super simple as well. Simply mix everything together in a small bowl and whisk well before drizzling over your salad.
Serve with a chunk of crusty bread, and you're all set for a scrumptious Shavuot!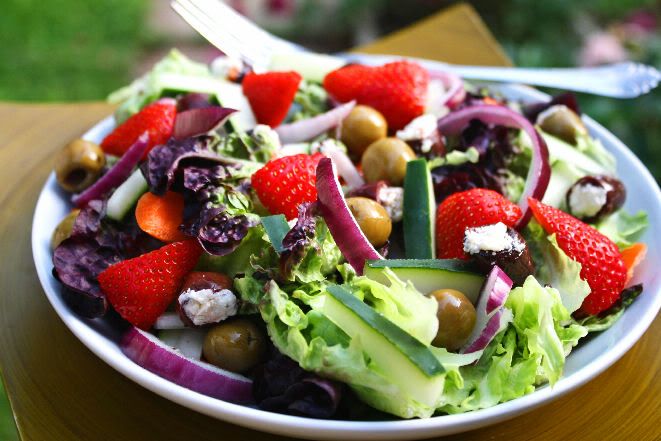 Related articles